In recent times, Shoppable Instagram feeds have been immensely popular among the online and eCommerce brands.
Social media is extensively becoming the shopping hub for consumers and this has attracted the attention of millions of users as it has made their shopping experience more seamless and delightful.
Starting from getting inspired by the product stories and attractive images to shopping on the same platform, Instagram has emerged as a companion that helps in shaping purchase decisions and ignites the desire of shopping.
What is shoppable instagram, how to convert your basic instagram account into a shopping platform, and how does it benefit you. You will get an explanation to all these questions in this blog.
So, let's get started!
What Is Shoppable Instagram?
With over 500m daily active users, Instagram has emerged as a new rising platform for introducing new forms of marketing styles and has become the comfort zone for customers to search for their shopping needs.
It has opened the doors for new potential customers by adding the feature of shoppablity to the catalog.
It is a whole new way to shop and that too on the same page, i.e., it does not ask the customer to leave the page for making purchases.
Simply defining, Shoppable Instagram is the visual catalog of the brands that vibrantly showcase the products and merchandise with the product details, specifications, and price tags that helps the brands reduce customer's purchase path.
It allows the brands to display the product's captivating images with tags of the product description and a streamlined purchase path that directs customers from the products page to the payments page.
How To Create Shoppable Instagram Posts
We have listed the 2 best ways to create and activate your Shoppable Instagram Images.
1. Instagram's Own "Shoppable Instagram"
Instagram has an in-built functionality to create Instagram Shoppable posts. The prerequisite conditions that the brands should possess are:
Their geographical location i.e. they must be located in countries like the United States, United Kingdom, Canada, Brazil, Germany, France, Italy, Spain, or Australia.
They must have a business profile on Instagram.
They must have a Facebook page.
Instagram app should be of the latest version.
The Instagram business account should be connected to Facebook Catalog.
Here are the steps to create Instagram Shoppable Posts
1. Setting Up Facebook Catalog
The primary step is to add a Facebook catalog to the connected Facebook page with your Instagram business account. You can use Facebook business manager to set up your Facebook catalog.
Brands should add the images and videos of products in the form of a catalog on Facebook with the tags and descriptions.
2. Connect Facebook Catalog With Instagram Business Account
Once the Facebook shop is created, add products to your shop either manually or migrate the products to your shop directly from the website.
After listing products to your Facebook shop, link your Instagram account with the above Facebook account either from Facebook or from your Instagram account.
You need approval for linking your accounts. Once your account is approved, you will see a notification that says "Start tagging your products on Instagram". Click on "Get Started" to enable the shoppable Instagram images feature on the app.
Select products from the Facebook shop and click on "Done". You have now successfully linked the Facebook product catalog with your Instagram account.
3. Product Tagging To Instagram Posts
After setting up the shoppable Instagram images functionality, you can now tag your products by simply adding the images to your Instagram account.
Select the option tag products and tap on the photo where you want to tag the product from the Facebook catalog. Tada! Your shoppable Instagram post is created successfully.
2. Taggbox Commerce – Shoppable Instagram Feed
Taggbox commerce is an amazing tool that allows the brands to create shoppable Instagram posts simply & easily.
Register or Log In to your Taggbox Commerce account
Select Instagram as the source to fetch all your Instagram profile posts
Once you have curated your Instagram feed, choose the Product catalog option
Upload your product catalog to the Taggbox account
Now Tag your uploaded products with your Instagram feed posts
Tada! You have successfully created a Shoppable Instagram feed.
Now you can easily embed shoppable Instagram feeds or Instagram shoppable images on your website or share the link to shoppable Instagram posts on your Instagram bio or other social media profiles.
Besides these, you also get different features like feed customizations and content filtering options. You can also enable automatic content updates from your linked Instagram account.
Many brands have utilized this feature to boost sales and outreach their marketing footprint to gain more customer attraction and impact marketing performance.
It has helped the brands to escalate the graph of growth and skyrocket their business.
The Benefits of Shoppable Instagram Posts
Shoppable Instagram posts are a whole new way of shopping, which has changed the way people shop.
This new rising trend has gone beyond attractive and charming images and has swiftly twirled the marketing arena by adding the "Shop The Look" tag to the photos. It has upgraded the utility of Instagram for brands and retailers.
Many brands use this to discover the new shopping trends and power-up their business by diving deep in the pool of customer's desires. Here we have discussed some of the benefits that this feature offers.
1. Easy Product Discoverability
Setting up an Instagram shop for your brands will help you display your products exquisitely so that customers can easily have a look at the product.
This Instagram shop makes the products visible to the customers in a more defined way so that it becomes easy for the users to discover the products they are looking for.
Customers are just a click away from getting their desires fulfilled. With just one click, they get to know about the product and specifications in a detailed form.
By making the products discoverable, brands can attract more and more customers and magnify their market reach.
2. Curtailed & Accelerated Purchase Path
Quicker, shorter, and simpler purchase path! There is nothing more than a brand can aspire for.
The lengthy and tiring buying process most hampers the customers with the complicated check-out process.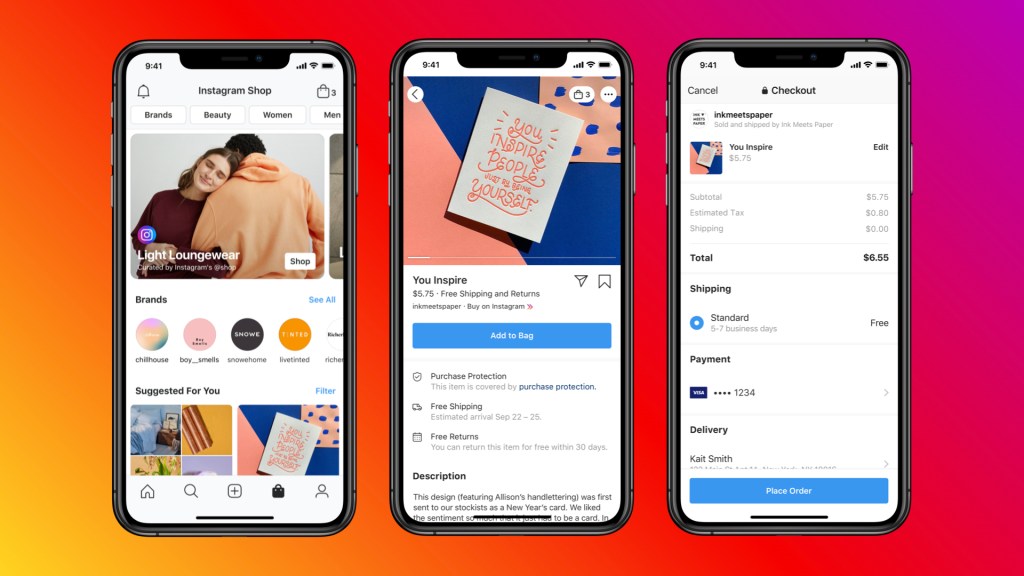 Adding a shoppability feature to their instagram account brands can provide customers with a smooth purchase path that will lead to more conversion opportunities. It has reduced the gap between engagement and purchase.
Also, this diffuses cart abandonment where merchandise gets deserted in the shopping carts because of the lengthy process and overloaded charges.
3. Authentic Advertising Using UGC
User-Generated Content is the Content created by the users about the branded products that they use.
Content (images, videos, etc.) created by the brand's followers featuring your products in their lifestyle is the most attractive way to create shoppable posts on Instagram.
In today's world, where word-of-mouth marketing is a peaking trend, over 90% of customers believe that user-generated Content is helpful when making a purchase decision and it also increases the conversion rate immensely.
By showcasing genuine customer's images with the products infused in their lifestyle, brands can build new potential customers.
It helps the brands to enhance their authenticity and reliability and build a strong relationship with users.
4. Beyond "Link-In-Bio" Call To Action
It is difficult for retailers to add links to products due to Instagram's limitation. They either have to add a link in their bio or link in the image's comment section.
Moreover, adding links to the comments is also not suitable as it is not clickable. Customers need to copy the link and open it into the new tab, which is a tedious task and the main reason for product abandonment.
To roll over this issue of lack of links, brands have adopted the Shoppable post feature, which allows them to tag the product with its detailed description that leads to the payment gateway.
Best Shoppable Instagram Examples
1. Crate & Barrel
Crate and Barrel's posts are a source of inspiration for food enthusiasts. It is a Germany based company that specializes in housewares, kitchen essentials, and home accessories.
They often collaborate with influencers to make its post more engaging and attractive and amplify its audience reach.
It has made it easier for the website visitors to directly purchase the product from the Instagram post that features its products.
2. Kate Spade
Kate spade is a luxury fashion design house showcasing handbags, jewelry, accessories, clothes, shoes.
They have an amazing Instagram feed filled with engaging lifestyle photos featuring their products. They have made these Instagram posts as Shoppable images allowing users to instantly shop the products they love.
3. H&M
It is a Swedish clothing company and a leading global fashion retailer. It has leveraged shoppable social media to increase its audience base and customer reach.
This has turned its Instagram profile into a Shoppable feed and a venue for customers to shop from.
They tag their Instagram post with their products to let the customers discover new products and shop directly from the post.
Wrapping It Up
With this fast forward world, brands need to keep pace with the customers to get along with their needs and desires.
Converting their Instagram profile into a shopping venue is the best way to influence customers to make the purchase decision.
Creating a Shoppable Instagram feed or Shoppable Instagram images will help you increase user engagement, improve brand-user relations, and enhance sales. There is nothing better than fulfilling the customer's desires while being in their comfort zone.