Virtual Event Marketing – Trends to Lookout for in 2023
6 minute read
2020 has brought an evolution to the digital world. The switch from the real to the virtual world has been one of the most significant changes from COVID-19.
The world has adapted to new ways to communicate and do business. Social media usage has blown through the roof of companies, and corporate virtual events have adopted the virtual world and continuously work for innovation in this realm.
In short, the industry has changed, and the challenges are mounting, which is why event production companies need to bring some trends to life.
Display Social Wall in Your Virtual Event
Leading Virtual Event Marketing Trends to Look Out for in 2023.
1. Marketing with Pre-Event Content
In 2023, more event management teams are offering free pre-event content for event participants. This trend is likely to succeed because it creates a curiosity of the virtual event among the participants.
It is a lot more difficult to convince people to attend virtual events because the desirable qualities of attending a physical event don't exist in the virtual setting.
Therefore, marketers need to be creative with the way they promote their virtual events. If your event is offering something new and valuable for the audience, you need to advertise it by offering free pre-event content that can serve as a teaser of the event.
Just give the audience enough to make them want more, and this will encourage them to look forward to the event and attend it.
Also Read: How to Host a Virtual Event in Just 14 Steps – 2023
2. Website Marketing
Pre-covid, social media marketing was slowly overtaking website marketing, and many professionals were predicting the inevitable fall of website marketing.
However, with COVID, the importance of website marketing has increased again. More and more people are now online and spend more time on their screens than before the pandemic.
A well-developed website can encourage potential virtual event attendants to check out the event's details and sign up. Ensure that your website has a user-friendly layout and makes signing up as easy for the viewer as possible.
You also need to ensure that your website has detailed information about the event and clearly states the time, motive, list of speakers, and contact information.
3. Social Media Event Pages
Virtual events will continue to be marketed through dedicated event pages on social media, especially Facebook.
The growing usage of social media has increased the possibility of virtual events being noticed by the right audience.
A properly set-up virtual event page is excellent for marketing and encourages viewers to sign up by easy information sharing.
The social media pages also inform the potential visitors about the event, which increases the chances of them attending it.
4. Video Marketing
Whether it's a physical event or a virtual event, video marketing will always be trendy because it engages the audience quickly.
Creating short teaser videos to create buzz and hype around the event is an excellent way to promote your virtual event.
Mind, though, both audio and video are critical when it comes to engaging the audience. Take care of the quality of the footage and add background music to the video to showcase the brand in the best way, as this is the first thing people will identify with.
You can ask the speakers to record short 10-second videos to encourage viewers to sign up.
5. Targeted Ads and Promotional Content
Targeted ads are still the most efficient way of marketing your virtual events. You can run these ads on social media platforms, Google, and professional virtual platforms.
Content marketing is also on the rise for promoting virtual events in 2023. Consider publishing blogs, articles, and social media posts to create hype around the virtual event.
6. Email and Social Media Reminders
Virtual events that engage their audience before the event are more likely to be successful. Sending out email reminders a few days and hours before the event contributes to a successful virtual event.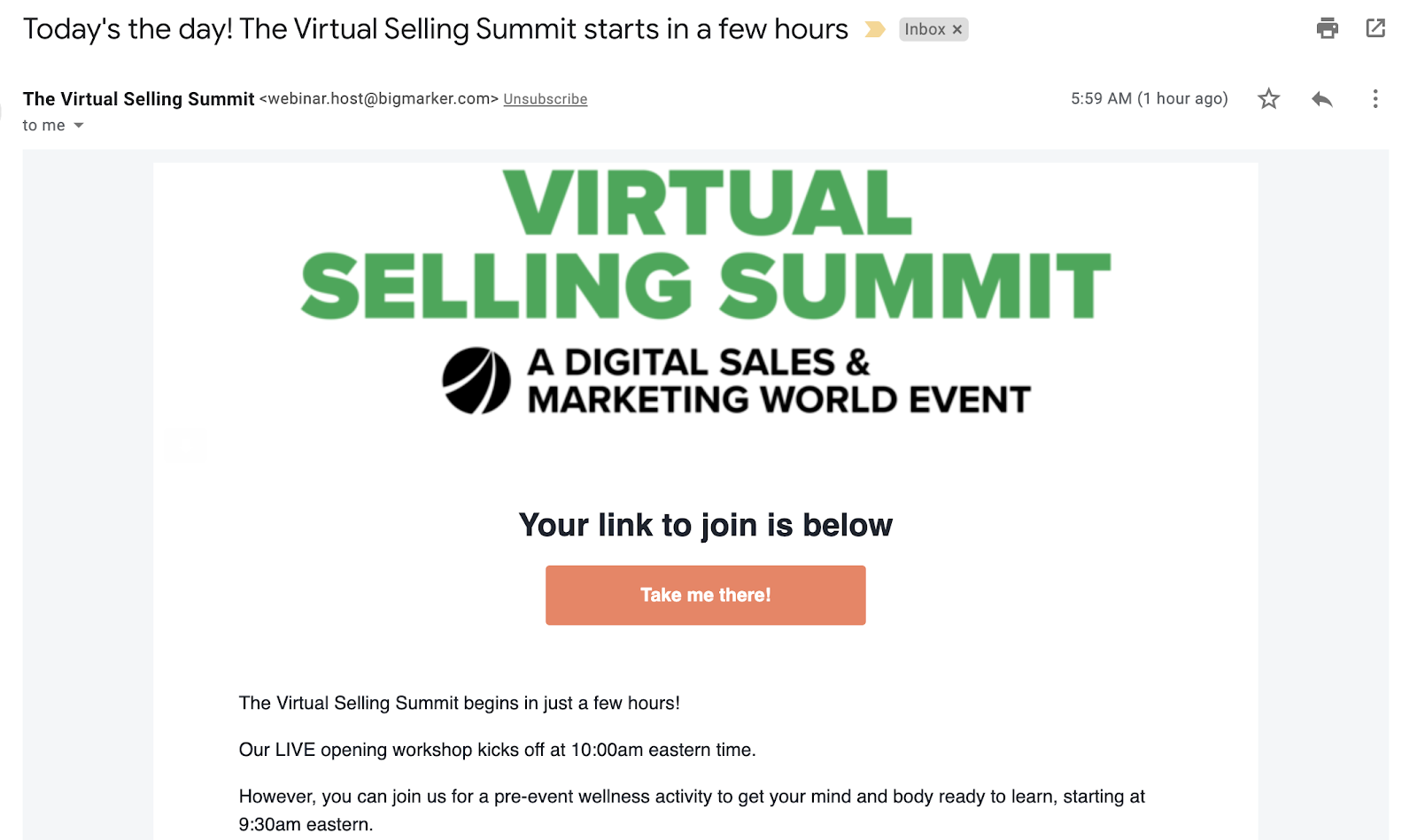 If you are hosting a virtual trade show, you can send out the list of companies that are going to be there to create excitement among the visitors.
You can also run a countdown campaign for the virtual event by posting a countdown from 10 days before the event. It will create event buzz in your audience and serve as reminders to attend the virtual event on time.
7. Using Social Wall
Social walls engage the audience with content collected from various social media platforms by social media aggregator tools.
Social walls are beneficial for your virtual events, even if it's a virtual trade show, a virtual fundraising event, or any other event happening virtually.
Social walls have many possibilities for your virtual event so that your audience remains hooked throughout the event, without any distractions.
You can display a real-time ticker along with the live stream to share your audiences' opinions, embed user-generated content to amplify social interaction, and much more to make the overall virtual event experience interactive and engaging.
Display Social Wall in Your Virtual Event
8. Use of Artificial Intelligence
Artificial intelligence has been a game-changer for marketing technology over the past few years.
This trend is likely to stay in because of innovation in data collection and advancement in various platforms.
AI is an excellent tool for making virtual event marketing more effective and efficient by absolving planners from doing repetitive tasks, giving them more time to have creative solutions.
Event production companies can use AI-powered platforms at all stages of corporate virtual events planning and marketing, from personalizing experiences and promotions to managing ticketing and sales and automating post-event follow-up incorporating all the event production trends.
9. Personalized Marketing
The collection of customer and marketing data has increased due to the rise in new sources.
This data means that instead of treating the virtual event attendees or customers as part of a target group incorporating virtual events, they can be treated as individuals with experiences personalized just for them.
Based on that data, you can create multiple marketing campaigns targeted at a specific group of people. You can then run these campaigns as targeted ads.
For instance, a certain age crowd will be interested in a particular speaker; you can target that ad for that age bracket.
Final Words
Virtual events are here to stay, which means virtual event marketers, virtual trade shows, and event production companies need to be more creative to amplify engagement in the digital world.
They will unquestionably leave a lifelong impression and result in a future record attendance in the virtual events.