Top Virtual Event Tools and Technologies for 2024
6 minute read
Planning a virtual event or live streaming conference or webinar and want to make it successful? These virtual event tools will make it easier and better, have a look!
Event technology has been in existence for quite some time now and majorly these technologies were focused on live events conducted in an offline environment.
But now, due to some recent global activities, there has been a paradigm shift from live events to virtual events. More and more brands and businesses are now leveraging virtual event opportunities to connect with their audiences.
So, as the virtual event ecosystem is growing, the demand for virtual event technologies is also rising among brands and event managers. So here we have explained the virtual events ecosystem in 2024 and the virtual events technology tools that will help you!
Display Real Time Social Content In Your Next Virtual Events
Virtual Event Technology & It's Importance in 2024
Virtual events are basically the events that take place in the digital environment through digital media, the internet, and platforms allowing the audience and organizers to connect from any location.
Be it virtual conferences or seminars, virtual exhibitions, career fairs, digital convocation ceremonies, virtual parties & celebrations, virtual meetings, etc. are all part of the virtual events ecosystem.
Virtual events have now gained popularity as they have proven to be more engaging, interactive, cost-effective, accessible, and easily manageable as compared to live events.
So, here we have listed the best virtual event platforms that will help you create, plan, organize, and manage your virtual events.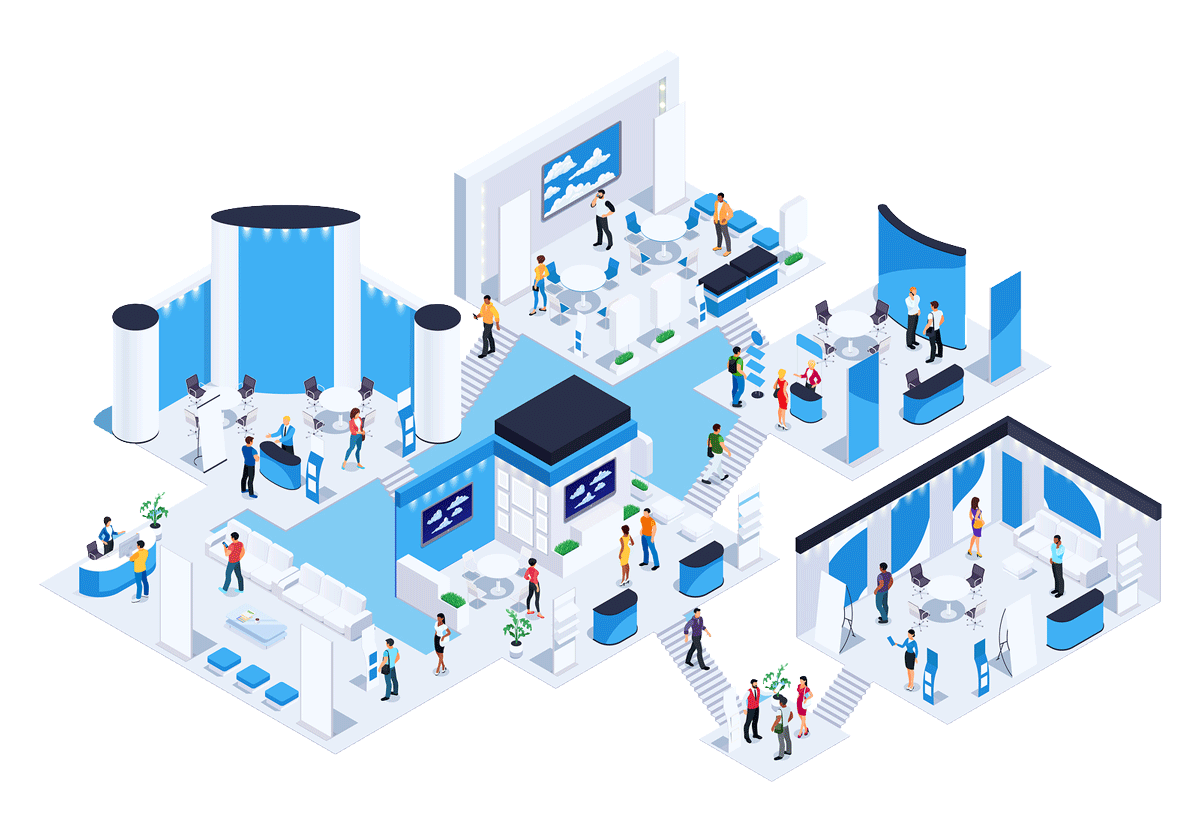 Best Virtual Event Tools For 2024
1. Virtual Event Registration
Event registration is the most important primary step to execute a successful event as the easy and simple registration process will ensure that you get maximum audience participation through maximum registrations.
Event registration is an essential part of event marketing, therefore, it needs to be seamless, mobile-friendly, and accessible with minimum effort.
Accelevents, Cvent, Eventbrite, etc. are some of the best and most popular online event registration platforms that allow you to collect useful attendees' information, provide badges, streamline registration, etc. This event technology tool will help in making your virtual event registration easier and more interactive.
2 . Social Media Integration & Real-Time Communication Tools
Social media nowadays is an integral part of the marketing and communication ecosystem especially when it comes to event marketing, social media is the best platform.
Tools like Taggbox Display can help you integrate real-time social media feeds to your virtual event through live streaming. The tool helps you to make your event more creative, engaging, and interactive.
Such a virtual event platform helps in collecting and curating the content into a feed that is shared by users on social media around your event be it before the event or during the event. This social media feed can then be integrated with a live streaming screen for your virtual event.
This powerful virtual event tool lets you organize live interaction, ask questions, enable panel discussions, drive hashtag campaigns, boost social promotion, and also allow the social media users to interact with virtual events besides the attendees.
Display Real Time Social Content In Your Next Virtual Events
3. Virtual Event Website
A website in this digital age is an essential component for any brand or business and when we are talking about virtual events then a website can prove to be highly effective and beneficial.
It is the easiest and simplest virtual event platform for holistic event management and promotion where you can use the website to share necessary information about your event to help the attendees and interested audiences.
Besides, these virtual event tools will also help in delivering information about the date and time of your virtual event, how the attendees can register for the event, how they can access or attend the event, share multimedia related to the event, etc.
Virtual event technology CMS like WordPress or Wix provides you with an option to integrate an event plugin or easily create a temporary event landing page instantly.
Also Read – Top Event Management Companies in USA
4. Virtual Event Live Streaming Tools
This is probably the most important virtual event technology tool as live streaming will enable the event to be organized. Live streaming tools will allow attendees to join and attend the event.
Live streaming tools will allow you to organize digital meetings & conferences, deliver online keynote presentations, enable communication with the attendees, conduct seminars & speeches, etc.
Tools like Zoom, Google Meet, Skype, YouTube, Facebook, Instagram, etc. will allow you to live stream your event. Some of these apps will also provide you to record your virtual event, share screens, manage attendees' history, enable real-time interaction, etc.
These tools are an excellent solution to conduct business meetings, team interactions, interviews, birthday parties, training sessions, educational sessions, etc. with an option for audience scalability.
5. Event Planning Tools
Event planning is extremely important for organizing virtual events as it is still an emerging trend and there might be new challenges and issues that might arise unexpectedly.
So, to manage these problems & challenges and effectively execute a successful virtual event you will need some effective event planning and management tools for work management and seamless communication.
Tools like Slack, Trello, Eventbrite, etc. will help you effectively manage and plan your event. Whereas these tools do not necessarily relate to the events they help you organize the tasks, plan for the future, technical management, etc.
This will help in keeping track of activities that have been completed and that are yet to be done along with assigning & tracking different tasks relating to the virtual events.
Conclusion
These were some of the best virtual event technology tools that brands, businesses, and event managers can leverage to deliver engaging, interactive, and insightful virtual events & experiences.
Besides these tools, it is essential to manage other digital technologies like connectivity possibilities for the audience, reliable internet, cameras & equipment, etc.
All these virtual event tools will help you in delivering a successful virtual event with end-to-end solutions from event marketing to event planning to event management, and event execution. So, identify & leverage the tools that are most suitable for your next amazing virtual event.
Boost Your Event Engagements With A Social Wall