Your Go-to Virtual Networking Event Guide For The Year 2024
7 minute read
Whether you are a startup or a successful business, one thing that we all look forward to is networking events, trade shows, and conferences, as they help us find connections better than any other means.
These events are often at large halls filled with other business professionals seeking opportunities to grow their business by making in-person connections. Although lately, these events and conferences are shifting towards the virtual world.
In-person or virtual, we know that networking can be challenging. One might wonder that because of the landscape change to a virtual setup, there is no longer the opportunity to connect and network with potential leads since our physical booths are gone.
Well, think again, as networking has moved over to the digital world, attendees have adapted quickly and got on board.
So what is a virtual networking event? Keep reading to know more.
What Is A Virtual Networking Event?
The purpose of hosting a Virtual networking event is to bring people and businesses to one place to explore growth opportunities. What makes it different from other virtual events is that it emphasizes creating connections and improving engagement with interactions that can be equally beneficial for both ends of the network.
Virtual networking events focus on the keynote and a series of speakers and breakout or training opportunities. Networking has changed the game in the virtual industry.
Two types of networking happen in any virtual networking event:
One-on-one Networking: You can have one-on-one conversations with an attendee, a speaker, or an exhibitor keeping your privacy and personalization intact.
Group Networking: This enables participants to be a part of an ongoing discussion for a keynote session or an ice-breaking session that facilitates open discussions between a partner group.
Lead generation software has always been a goal for businesses, and that goal is achieved by networking and connecting with the right prospects. And when you bring it to a virtual set-up, the ROI is surprising as a virtual network event has fewer expenses and less time consumption.
Must Read: Virtual Event Engagement Guide For 2024
How To Choose The Best Virtual Networking Event Platform?
Some virtual event platforms let attendees communicate in chat, and some provide AI but it varies by platform. Virtual event platforms now have digital booths where people can connect with you by reaching the booth and making sure that you don't miss networking opportunities.
But there are many things to consider when choosing the best virtual events platform. Here are a few parameters that you must keep in mind:
Virtual Networking Tables
Virtual networking tables provide a space for participants dedicated to having discussions and generating leads. Similar to the physical events, participants can spot them and sit in front of each other to discuss and exchange ideas.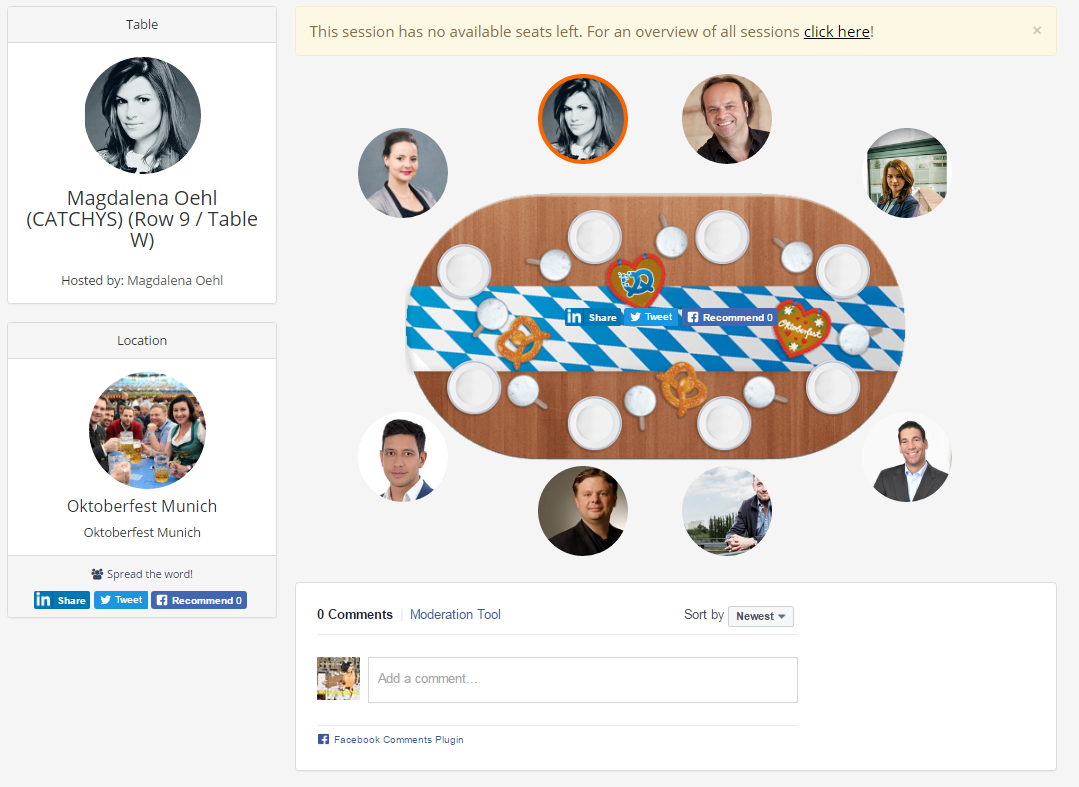 Look for a virtual events platform that provides virtual networking tables as your goal is to give a physical world experience to your participants and this is one such way to do so. They will provide one-on-one conversation opportunities.
Artificial Intelligence Matchmaking
As we know, a virtual networking event is open to a global audience because of its virtual nature. How can you manage all these people from diverse backgrounds and ensure they generate some positive results after attending? You can count on Artificial Intelligence.
Participants can feed their basic information and the goals they want to achieve with the virtual networking event. AI matchmaking suggests the right prospects to have a one-on-one or a group discussion depending upon what the attendees choose.
Live Chat
Live chat solution can closely replicate face-to-face interactions in a physical event in three formats: audio chat, video chat, and textual chat. This feature enables attendees to have free-flowing conversations to connect and collaborate with exhibitors, sponsors, attendees, and other tech support chats.
A Virtual event platform with live chat software allows attendees to interact with one another, the event host, and the speaker. After all, the whole idea of networking is to facilitate seamless one-on-one conversations that would result in high engagement and create new opportunities.
Business Card Exchange
New possibilities appear in the picture of virtual networking, and traditional visiting cards have found a replacement as e-business cards. Such a feature enables the virtual networking event attendees to share their basic information hassle-free.
Choose a virtual events platform that provides easy sharing of digital business cards with every attendee available on the virtual event platform. And if you want someone else's business card, you can send them a request and easily download it and add it to your contact list seamlessly.
Some Ideas To Improve The Virtual Networking Experience
Before you can dive into planning your networking event, you need to understand what it is you hope to accomplish. Do you want to connect industry professionals or do you wish to generate leads and prospects? Here are some common ideas you can consider to achieve your desired goals.
Bring In A Popular Industry Figure Or Leader
There is nothing more attention-grabbing than hiring a famous personality as the master of ceremony of your virtual networking event. Choose someone famous for your attendees or is a renowned industry leader; it creates excitement among the attendees.
If not a MOC, this individual can act as a guest speaker and present to the audience on a topic of interest, generating conversation. You can highlight them in your pre-event promotions to make sure more people participate in your virtual networking event.
Create Separate Virtual Meeting Rooms
The essence of a virtual networking event is if you provide as many interaction opportunities to your attendees as possible so that they can find attending the event worth it.
By creating themed meeting rooms, you can give attendees some control over how they choose to interact with other attendees and the number of attendees they want to create discussions upon.
Market Your Virtual Networking Event
Create email invites for your potential attendees to give them a brief about your event and tell them that attending your virtual networking event can bring many benefits to them.
Make sure you highlight the names of your guest speakers and all the fun interaction activities you will be conducting. It will ensure maximum attendance at your virtual networking event. More attendees would improve the networking experience.
Use A Social Wall For Better Networking Opportunities
A social wall is a live wall aggregated with content from various social media platforms. The social wall updates in real-time, making it highly engaging and attention-grabbing.
Taggbox Display provides a seamless social wall experience for virtual events, allowing you to collect content from over 15+ social media platforms, curate the best content, and embed it for your virtual event streaming.
Since yours is a virtual networking event, you can choose Linkedin as your source. Encourage attendees to find one another on LinkedIn or use Taggbox Social Wall as a space to exchange contact information.
You can display the LinkedIn profiles of your attendees and share their posts. The social wall provides real-time interaction and immense audience engagement.
Sending A Follow-up Email
It is necessary to give your virtual networking event attendees the best experience. And make it memorable for them. But how will you know that all your efforts have a positive outcome?
Send a follow-up email to all attendees thanking them for their presence and asking them to fill out your post-event survey. They will feel special when you consider their opinions, and the survey will also help you improve in the future.
Bonus Read: Tips and Best Practices For Organizing Virtual Conferences
Over To You
Learning how to build bridges and connect with people across the platform is how you get the most out of your time with virtual networking events or conferences.
As we reach the end of this blog, we hope you have a better understanding of virtual networking events, how to choose a platform, and some of the ideas you can implement in your next virtual networking event.
Choose this 2024 guide as your handbook, and give some dynamic networking opportunities to your virtual networking event attendees.