Content Marketing Trends: 6 Types of Content To Drive Brand Success
12 minute read
As Andrew Davis said — "Content builds relationships. Relationships are built on trust. Trust drives revenue."
The quote perfectly explains why content is so crucial in today's age where the consumers do not entertain promotional valueless content; instead, they are looking for value-driven purposeful content. In today's blog post we will be focusing on such content marketing trends for 2024which every marketer should know about and focus on this year!
Making statements about the importance of content marketing and content strategy before every new year starts is a mainstream thing that does not impact or influence anyone due to its vagueness and irrelevance.
But moving into 2024, the strategy around content needs to be more specific and consumer-centric.
Therefore, we have identified some key insights into the current content marketing scenario and crucial trends that need to be acknowledged & leveraged for your marketing & promotions.
Current Content Marketing Trends
In the recent past and beyond, marketers & brands believed that content marketing is about attracting consumers to the brand. After that, engagement and conversions will automatically follow.
But now the tables have turned where the consumers' trust and engagement define the conversions which hugely impact the revenue generation & brand growth.
Currently, the influence of social media and digital ads is on rising among the marketers as social media users and their content reviewer jobs habits are growing exponentially.
These marketing channels have been the same but recently strategy and trends around the content are evolving for the better. Marketers have responded to the needs of consumers with the inclusion of more valuable, meaningful, purpose-driven, and informational content in their campaigns.
Content is now the core of marketing and not a distinct part of marketing. So, it requires a great emphasis and strategy to perfectly leverage the content trends that will bring positive results.
Let's explore the emerging and influential trends in content marketing for 2024.
---
Content Marketing Trends for 2024& How To Leverage Them
#1 Craft Your Brand With Storytelling
It can be safe to say that relevancy and storytelling are the elements that touch upon human emotions and influence their behavior hugely. Firstly, the relevancy of content is a necessity as it opens the door to user engagement. So, make sure you create content and graphics relevant to your audience. Use tools and resources like Procreate along with the best Procreate brushes for graphics and Jasper AI for content.
The users should be able to relate to your campaigns as it adds value to them. Besides, Storytelling is another great asset that hugely influences consumers and helps them connect to the brand.
Storytelling is the art of leveraging the content is such a way that attracts the consumers, bring engagement, and mostly draws an action as it is more of an experience than a marketing campaign.
Amazing video on marketing through storytelling by Neil Patel
How to Leverage it
To bring relevancy and incorporate storytelling, social listening and analysis is the best way to go. Understand the existing trends among social users, the kind of content they share, and their interest & likings.
This will help give you valuable insights into consumer behavior towards content that you can leverage to create campaigns with storytelling and tremendous relevancy.
Make sure the story is interesting, engaging, and has a positive branding message.
Brand Example: NIKE – Dream Crazier
Nike is an inspiring brand that has always been successful in tapping consumer emotions with motivational storytelling advertisements. Dream Crazier campaigns perfectly depict the story of if you dream crazy you can DO IT as well.
---
#2 Build Trust With Valuable User-Generated Content
There is already a great hype around user generated content (UGC) being the future of the content in brand marketing campaigns. This statement is true to a great extent as it is the most authentic, reliable, and trustworthy form of content available.
79% of people say UGC highly impacts their purchasing decisions
The need for such authentic & reliable content among the marketing has made it immensely popular where every other brand is now focusing on leveraging user-generated content marketing as it is cheap, scalable and trustworthy!
See how powerful an image of the customer can be for a huge multinational brand.
Leveraging UGC as the highlight of a brand campaign helps them in building trust, enhance brand image, drive user engagement, and increase conversion rate. All this with minimum investments and easy access to content.
How to Leverage it
Leveraging UGC can be a tricky hefty task that might not be easily possible but the best solution is to use a user-generated content platform that will help you with it.
A UGC platform like Taggbox will help you discover incredible content from users across different social platforms. You can curate all the relevant and valuable UGC from the social hub, and then personalize the curated content to make it more interactive, refined, attractive, and branded for your campaigns.
Further, the UGC platform can help you with getting rights to users' content and display the UGC on websites, Email Campaigns, digital signages, DOOH advertising, in-store marketing, event walls, digital/social advertising and much more.
---
Added features like insightful analytics, design customizations, custom branding, customer support, etc. are a bonus with UGC platforms.
Leverage the Power of UGC Across All Your Marketing Touchpoints
---
#3 Next-Level User-Engagement With Visuals
The rise of social platforms like Instagram, Pinterest, YouTube, Snapchat, etc., has ignited exponential visual content growth and consumption among users.

Video software solutions are becoming more popular each year as they help brands produce, host, distribute, and stream high-quality video content for various platforms.
Visuals are reigning the social platforms as users create, share, and explore a colossal amount of engaging images and videos. Their social media feeds are filled with visual content such as infographics, creative images, aesthetic vector graphics, adventure-filled short clips, and even cute GIFs or funny memes.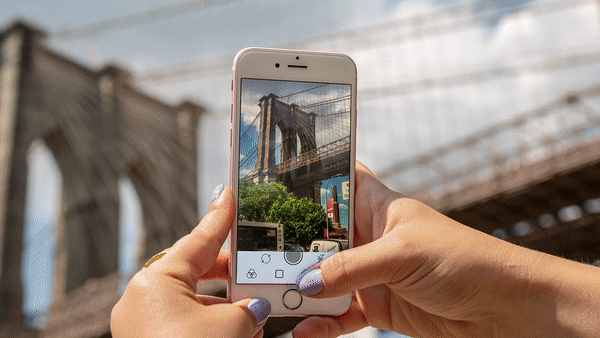 The combination of internet access, smart devices, and social platforms has triggered this visual content consumption and sharing. With the growing aesthetics of digital media and smarter technologies, visual marketing will see an increasing interest and consumption. You can also create digital flip books with your products or deals and share them with your audience for more interactivity and engagement.
How to Leverage it
The best way is to trigger your users to create amazingly creative engaging visual content for your brand rather than creating a tremendous amount of visuals that will require heavy investments.
One key aspect to consider is the ability to easily change background colors in photos, as this can allow users to personalize their content and make it more appealing to their audience.
As a marketer, you should leverage social media platforms and digital technologies to make the most of visual content marketing.
Gifs, Augmented reality, Facial recognition, and gamification strategies are the best solutions along with hashtag campaigns.
Tip: User-generated content is the most promising among visual content marketing trends , Look at the stats below:
Brand Example – STARBUCKS – Instagram
Starbuck is a legend when it comes to social media & visual marketing. One would think what can a coffee brand do uniquely to win customers? Well! Although most of their feed is filled with Starbucks' cup photos still the visuals are delightful.
So, the cups and their brand personality is constant throughout but they play with seasonal themes, visual creativity, captivating backdrops, and much more to engage and entertain the audience.
#4 Build Meaningful Relationships Through Personalization
80% of marketers saw a measurable lift in business from personalized campaigns
This is the age where the customers want brands or marketers to cater to them with content that is relevant and personalized to their needs, interests, tastes, and requirements.
The reason for the importance of personalized and targeted content is that it helps in building a meaningful personal relationship between the brand and the consumer where the consumer feels gratification & acknowledgement.
Personalized & targeted content marketing will help marketers in getting more click-through rates on their campaigns and helps in user engagement and conversions.
How to Leverage it
Traffic Analytics tools like google analytics and social listening are the perfect solutions to set an initial base for personalized and more targeted content campaigns. These will help in providing insights into the interest & behavior of users.
Using those insights, you can create or curate content for your campaigns. You can reach out to each user with a personalized communication message.
If the content addresses what the user is looking for or is interested in, it will hit the right spot bringing engagement and conversions.
Brand Examples: Amazon – Product Recommendations
Amazon, the giant of eCommerce industry is the giant of personalized marketing as well. Amazon makes personalized product recommendations to its users perfectly.
The tailored experiences help in building trust among the consumers, attract & engage them, increase dwell time, and more importantly helps in upselling and increasing the conversion rate.

---
#5 Advertise Brand Advocacy Through Influencers
Influencer marketing has been in the limelight for some time now where brands are leveraging them to advertise & advocate their products to the influencer's audience.
It isn't necessarily about macro-influencers but micro-influencers are also in the game. Influencers' content is quite unique & valuable due to their experience, knowledge, and creativity that attracts the audience.
Influencers content is a mix of brand advocacy, authenticity, and reliability that helps in shaping the online purchase behavior leading to increased user engagement & conversions.
How to Leverage it
It is a comprehensive task to leverage the influencers properly as first you have to analyze whether your business industry is an appropriate one for influencer marketing.
Then based on your business scale, choose the perfect influencer. Choosing the influencer includes a detailed review of what content he posts, his content strategy, knowledgebase, audience scale & growth rate, etc.
Once you define the right influencer(s), the idea is to let them create content instead of you providing your promotional content as their content has been the reason for their success & popularity.
You can now use this influencer generated content across all your marketing touchpoints like websites, social handles, and offline marketing mediums to enhance user engagement, social trust, and conversions.
Brand Examples: Naked Juices – Kate La Vie
Naked juices leveraged the influencer marketing perfectly to showcase brand advocacy and create brand awareness among the audience of the influencers & more.
Kate La Vie, a lifestyle blogger was reaped in by the brand to share sponsored posts to mix their juices into the fashion, style, health, and beauty industry as a healthy drink.
---
#6 Future Lies In Voice-Driven Content
Earlier there used to be keypad phones with a lengthy process to type or search for something on the net. Then came the touchscreen phones with an easier process followed by smartphones & smart devices which are revolutionizing the daily lifestyle of users.
Voice-activated search or voice-assistant are growing their influence in the world with increasing users. These devices have triggered the growth of voice content making it an emerging trend. Podcasts and other voice-related content types are now in a rage and will be a big content trend for 2024
Voice-activated content is seeing popularity as provides the minimalist and easiest access to content for the users compared to video, images, etc. Voice content provides quick solutions with minimum effort and users are investing in such devices with voice search functionality.
Besides, Podcasts also fall under this category and they are a growing trend among the audience and text to time career seekers.. So, it is important that wherever possible, you should convert or create your content into the podcast for the religious followers of podcasts
How to Leverage it
Since it is a growing trend, it is important that your brand has an opportunity & relevancy with voice content. Given you have the opportunity, you should use your existing marketing channels to educate users through voice content marketing trend.
So, investing in voice content is the right step to take but simultaneously you have to invest in Search engine optimization and social media content to increase awareness, exposure, SERP performance to gain user engagement with voice content.
Brand Example: Alexa & Assistant – Bacardi
Bacardi is globally renowned spirits company that produces rums, cocktails, and more. It collaborated with tech marketing company -Send me a Sample to distribute free samples of newly launched Rum.
They leveraged product marketing and voice-driven content perfectly where the users just need to say "Send me a sample of Bacardi" to Alexa or Google assistant & then it sent free rum samples to these users.
Conclusion
These were some of the key content marketing trends that will rule the 2024 content marketing ecosystem.
The future of content is consumer-centric where the aim is to deliver value to the consumers along with engaging marketing that attracts consumers to interact with the brand.
So, plan your content strategy for 2024 keeping in mind these content trends and let the customers be the content creators for your brand.